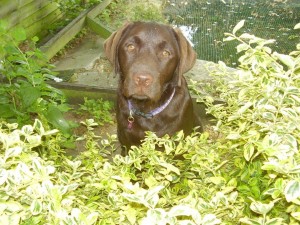 We breed two – three or four litters every year for sale to approved new owners. We do not export pups.
We will ask you lots of questions before we agree to add you to the waiting list – please do not be offended! Owning any dog is a major commitment in time, money and effort. Before we agree to sell a pup we must feel assured that you understand the commitment you are making and that life will never be the same again! Walking your dog on the beach on a warm summer's day is not the same as getting up on a cold winter's morning when you are already late for work. Puppies change rapidly as they grow and their needs change with them. This applies even if you are an experienced dog owner.
We expect you to commit to life long care 24/7, 365 days a year.
Our Puppies page and About Labradors page may help you to decide whether owning an Aidens Labrador is right for you. You can always call us if you have questions.
Obviously we do not know how many pups will be produced at each whelping, but it is not unusual for the number to be in double figures. We will tell you about your pup as soon as it is born and can send you pictures as the litter are developing and learning, but we do not allow visitors until they are 4-5 weeks old so as to limit the chance of infection. You are warmly invited to visit us when we next have a litter or come and meet our girls by appointment at any other time. Check our News page for the latest information on litters.
Aidens Labradors will help you to prepare for getting a dog and support you from your puppy's birth to the inevitable final goodbye.
Our Registered Kennel Name (Kennel Club Listing) is AIDENSLABS.
We are members of the Labrador Retriever Club of Great Britain, the NW Labrador Retriever Club and the Dog Breeders Association as well as many other smaller canine societies.
Finally, why Aidens Labradors? We are often asked about our name! Aiden is our first grandchild, born within days of our first litter. Seemed obvious really!