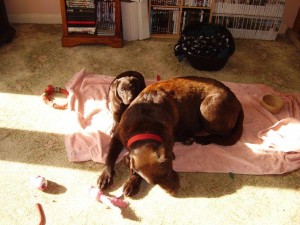 Boarding
We can accommodate your dog for short or long periods (subject to availability).  We cannot accept male dogs over the age of nine months that have not been castrated if our girls are in season and we not accept female dogs in season. Should a bitch go in to season when we have her we will of course keep her for the the period of the booking but would restrict her walks and may make an additional charge.
Your dog must be fully socialised without behavioural problems and walk on the lead without pulling. Your dog must have been vaccinated, wormed and treated for fleas with a prescription product; please provide proof when booking. Your dog must be vaccinated against bordetella bronchiseptica ( Kennel Cough) at least two weeks prior to boarding. Please seek advice from your vet before you book.
We can take your dog for booster vaccinations whilst you are away, if you indicate this on the booking form and provide the vaccination record. This will be charged at cost plus £5 to cover expenses. If your dog is boarding for longer periods, we will maintain the worming, vaccination and flea treatment and ask you to reimburse us on collection.
Your dog will be cared for in our home and treated as a member of the family, with access to a large garden and three walks a day including on the beach where possible. Puppies are exercised suitably for their stage of development.
We can only accomodate five dogs at a time and holiday periods are very busy, so please  try to book as far in advance as possible. March, April and June – August are always very busy.
We charge £16 per day plus £1.00 per day if you want us to provide dry food from The Natural Dog Food Company and plus £1.30 per day if you want to include treats .  We will require contact details for you when you are away, leaving and collection time and a £20 (non-refundable) deposit. The balance is due no later than two weeks before departure. We do not accept cheques. We can accept cash but prefer bank  transfer to our account for which we can provide a receipt. We ALSO accept credit or debit cards. If a booking is cancelled less than 7 days before the time the dog is due to board the full  fee becomes payable. If we are asked to amend the date/time of arrival/departure we reserve the right to charge an amendment fee of £10.
We are licensed and inspected by Thanet Council for boarding.
Aidens Labradors Booking & Medical Consent Form 2018
Please call us to arrange a visit or discuss your requirements.
We will consider long term boarding at the same rates as above but would ask that the dog stay with us for at least five days before leaving to see whether it was happy and fitted in. Any dog staying for longer than a month will be registered with our vets.
We are available for dogs to be dropped off or collected from 6am until 8pm. Charges run from 12 mid-day until 12 mid day so if you wish to collect your dog after 12, we will charge half a day's boarding.
Any additional costs must be paid on collection.
We have spare beds, leads and bowls should you forget yours!
Any medication that your dog requires should be provided with clear written instructions.
If required, we can collect and return your dog – cost by request depending on distance.
Should a dog demonstrate aggressive behaviour to other dogs or humans, we reserve the right to request that it be collected from us immediately or as quickly as possible. All monies will be refunded except for the deposit. It is vital that in a home boarding situation, your dog socialises well with ours and any others that are staying with us. We warmly invite you to bring your dog along to meet ours for a day if there are any doubts at no cost. Nervous dogs can be accommodated.
Insurance
Boarding is covered by fully comprehensive insurance, details of which can be supplied on request. In the unlikely event of an emergency requiring your return, our insurance will cover the costs of bringing one person back to the UK (conditions apply). Please provide a copy of your pet insurance when boarding.
We want to make your pet feel that they are at a home from home so, as far as possible, we will follow your regime and not make your pet fit in to ours. Our three (soon four) chocolate and three black Labradors will soon make your pet feel at home ! You are welcome to call or e-mail us when you are away to check on your pet's welfare, but we promise they will be having as good a holiday as you are.
WE ARE SPECIALISTS IN LONG TERM BOARDING OFFERING COLLECTION AND DELIVERY TO AIRPORTS IF REQUIRED AND ORGANISING SHIPPING WHERE REQUESTED.
---
Dog Food
We are proud to be distributers of what we consider is the finest dog food available. The Natural Dog Food Company offer a range of products and are the UKs first 100% natural dog food producers. We  offer a FREE delivery service. Please call us on 01843 866 991 or 07774 619 019 to discuss or order.
---
Identification
It is a legal requirement for your dog to wear a collar and tag as well as to be microchipped. Please ensure that the microchip database is kept up to date with any changes to your details. The fine for not having a microchip and a tag with accurate details is considerable and would be charged to the person in charge of the dog not the owner. We therefore reserve the right to order and supply a tag if necessary and we will check that your dog's microchip is functioning.
We can obtain tags at a discount (£7). They are guaranteed for a lifetime and come in naval brass, deep-etched with information.
The format required is:
Owner's Surname
House No
Post Code
Contact Telephone Number
We recommend that you do not put your dog's name on the tag.
---
Training and Behavioural Consultations 
We work in collaboration with a qualified trainer and behaviourist.
Private lessons are available on request in London and the South East. All lessons and classes use non-aversive methods that are fun for dog and owner and that enable each participant – canine and human – to learn at their own pace.
We cannot accommodate dogs with behavioural problems for boarding or training classes. We can arrange behaviour consultations in London and the South East with a qualified behaviouralist and can recommend behaviourists elsewhere in the country.
Application forms for group training and further information on private sessions and behaviour consultations are available from Aidens Labradors 07774 619 019